Diese Veranstaltung hat bereits stattgefunden.
Cancelled – Urban Art Session by Urban Artists
26. September 2020|14:00

-

23:00

CEST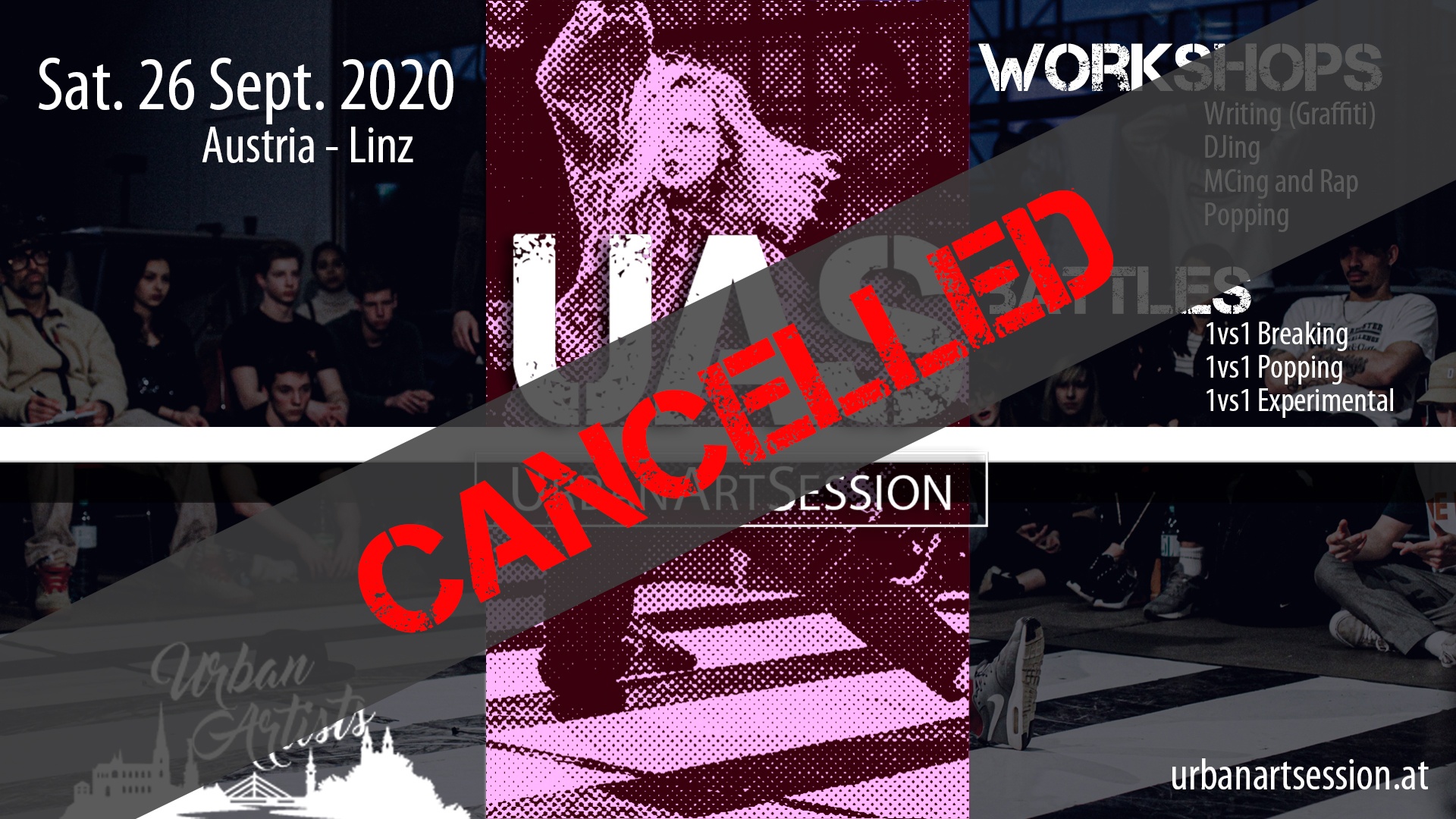 Dear Dancers, Visitors and Friends,
due to the actual COVID-19 situation in Austria, we are sorry to announce – Urban Art Session is cancelled.
HOPE TO SEE YOU AT OUR NEXT EVENTS!!!!!!!
Next Events:
Tag der offenen Tür UDS – 5th Dec. 2020
Show Your Skillz – 9th Jan. 2021
——————————————————————————————-
WORKSHOPS | Writing (Graffiti) – DJing – MCing and Rap – Popping
BATTLES | 1vs1 Experimental – 1vs1 Popping – 1vs1 Breaking
DATE | 26th September 2020
TIME | 14.00
LOCATION | OK Mediendeck – Linz
MAIL | info@urbanartists.at 
WEB | www.urbanartsession.at
REGISTRATION |
Battles | www.and8.dance
Workshops | info@urbanartists.at
ARTISTS | Niels Robitzky – Racquel del Rosario – Dj Phekt – ROBOZEE
DJ | Elwood Doesit
HOST | Manuel Pölzl
—————————-
Hip Hop Kultur im Linzer OK
Kunst- und Kulturvermittlung im Mediendeck des OK Linz, Workshops mit nationalen und internationalen Szenegrößen und Battles (Tanzwettbewerben) – das bringt uns die Urban Art Session 2020! "Peace, love, unity and having fun" – das Motto der Hip Hop Kultur steht bei der "Urban Art Session" im Vordergrund. Am Samstag den 26. September 2020 wird das OK Linz zum Hotspot der urbanen Szene. Die Workshops in DJing, MCing, Writing/Graffiti und Breaking ("Breakdance") begeistern sowohl Hip Hop Heads als auch Neueinsteiger. Das Highlight des Tages ist aber eindeutig das "Battle" (Tanzwettbewerb). Heuer treten die Tänzer in den Kategorien Breaking ("Breakdance"), Popping und Experimental gegeneinander an. "Das besondere an diesem Event ist, das man alle 4 Elemente des Hip Hop kennenlernt" betont Markus Eggensperger, Präsident der Urban Artist.
#urbanartsession #uas20 #providingculture #urbanartists #oklinz #breaking #popping #experimental #and8dance