Diese Veranstaltung hat bereits stattgefunden.
Dynamic Movement Festival 2020
12. August 2020|14:00

-

16. August 2020|14:00

CEST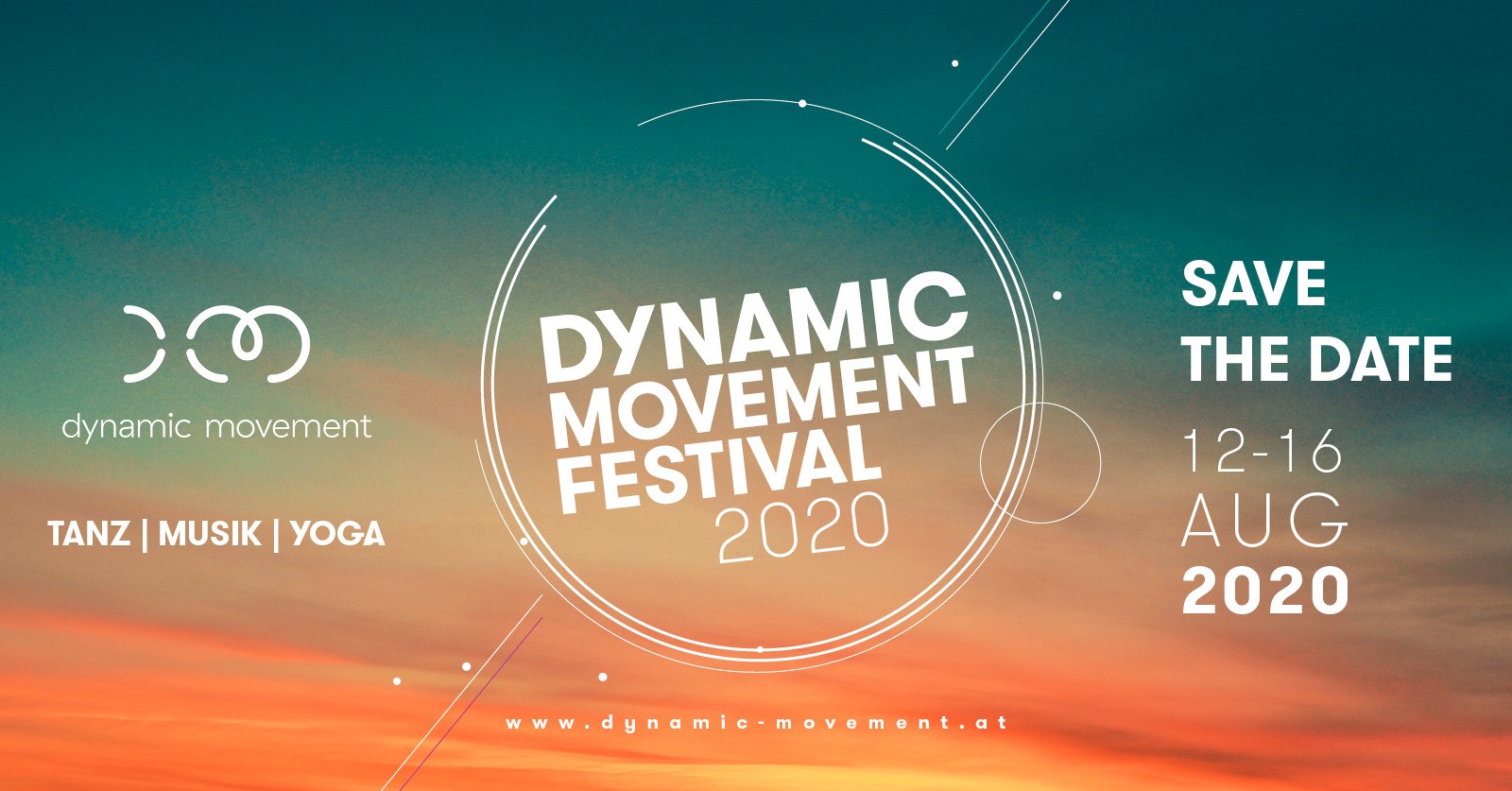 Dynamic Movement Festival 2020 
Tanz – Musik – Yoga 
LEBEN IST BEWEGUNG // LIFE IS MOVEMENT 
Bewegung begeistert, befreit und eröffnet sogar neue Perspektiven. Das Dynamic Movement Festival bietet all jenen Raum, die sich selbst entdecken, entfalten und Neues erleben wollen. Während dieses Festivals kannst du dich frei bewegen und bist weder an Leistungsvorschrift noch an Ähnliches gebunden, denn es spielt keine Rolle, ob du bereits Profi bist oder das Tanzen erst für dich entdecken möchtest.
WAS ZÄHLT, BIST DU UND DEIN WOHLBEFINDEN!
Darum gestaltest du deinen Tagesablauf, wie du willst. Jeder Tag bietet dir neue Möglichkeiten, dich tänzerisch und persönlich im Bereich Bewegung, Kreativität und Ausdruck weiterzuentwickeln.
Unsere inspirierenden Coaches sind während dieser Tage deine Weggefährten und unterstützen dich voll und ganz bei deinen Zielen. Erlebe 5 Tage voller Bewegung, Kreativität, Erholung und vor allem auch Spaß!
… be what you wanna be …
INFO 
Stundenanzahl: ca. 25 Stunden
Zeitraum: 12.08. – 16.08.2020
Ort: Cap Wörth, Wörthersee
TICKETS
Preis: 260 € (bis 20.06.) // 280 € (ab 21.06.)
Übernachtung: 36 € (inkl. Frühstück, Ortstaxe)
Wegen bestehender Vorschriften ist das Festival heuer auf 35 Plätze limitiert!
KÜNSTLER
Željko Božić (SLO) – Choreografie Konzept
Steffi Woehrer (AUT) – Afro Fusion
Tajda Kožamelj (SLO) – Commercial, Urban
Flow Pizana (AUT) – Urban Contemporary, Flow Yoga
Aljoša Möderndorfer (SLO) – House
Dino Kecanovic (AUT) – Afro
Xianghui Zeng (AUT, CHN) – Contemporary, Choreografie
Patrick Guti Gutensohn (AUT) – Improvisation, Floor
Markus Isopp (AUT) – Salsa
SIDE – EVENTS 
"live" Konzerte / Dj-Parties / Beachvolleyball
Massage / Coaching / Hallenbad / privater Seezugang
ANMELDUNG / KONTAKT 
www.dynamic-movement.at
office@dynamic-movement.at
0699/11313789
Summer is coming 🙂